Digital Career Training 2023
Registration is now open for the Alaafia Digital Career Training, which will run from today until August 25th.
The Alaafia Digital Career Training program is free of charge and requires a commitment of 10 hours per week.
The training will last for 12 weeks and will be conducted virtually through our e-learning portal at www.alaafiaafrc.org/adtc/.
Kindly note that participants must reside in Milwaukee and identify as a minority.
We strongly encourage individuals with disabilities and survivors of Domestic and Sexual Violence to apply.
At Alaafia, we believe that everyone should have access to resources that enhance their quality of life. Unfortunately, acquiring digital skills can be challenging for many individuals. Therefore, we are offering digital training classes for individuals aged 18 years and above, specifically focusing on those with limited opportunities in the digital world.
Our program aims to provide essential digital career training to help improve employability, empowering participants with knowledge and career prospects that promote financial stability and independence. We are committed to supporting our client's growth by offering transformative economic engagement opportunities.
Upon completion of all ten courses listed below, participants will receive a certification in Digital Media.
Alternatively, completing individual courses will result in certificates specific to each course.
List of Courses:
Graphics Design (focusing on Adobe Photoshop and Adobe Illustrator)
Video Editing (focusing on Adobe Premiere)
Social Media Management
Podcast Production
Content Creation
Writing
Web Design
UI/UX Design
Resume Writing
Basic Computing
Join us in this exciting initiative to bridge the digital skills gap and pave the way for a brighter future!
Digital Career Training – 2022
Alaafia Digital Career Training is Free.
Required Hours Weekly – 25-29 hours.
Training Duration – 10 Weeks.
A Tax-Free Stipend and it won't affect your government benefits up to $2900.
Free Bus Pass.
Uber Transportation for People with Chronic Disease.
Food for participants during the Training.
Alaafia believes everyone should have access to resources promoting a better quality of life.
Acquiring digital skills remains a challenge for many. Alaafia will be providing digital training classes for ages 21 years and up in the areas of:
This program aims to provide digital career training to individuals that have fewer opportunities in the digital world.
The training will provide the necessary technical training and resources for individuals to improve employability, knowing they have options for building financial stability. The goal is to empower individuals with knowledge and career opportunities that will assist them in their independence.
We provide more robust opportunities for residents to continue to engage with and participate in transformative economic engagement work.
The success of this project will support the growth of our programs so we may provide more robust opportunities for residents to continue to engage with and participate in transformative economic engagement work.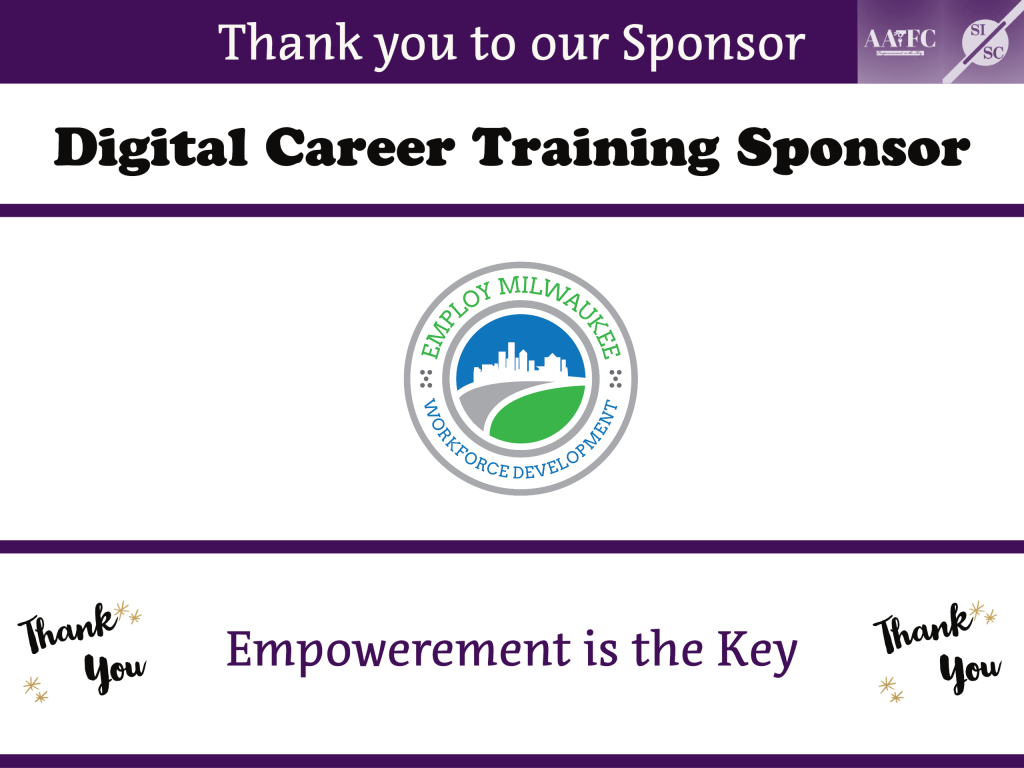 Video Editing
Website Design
Website Development
IT Training
Graphic Design
Digital Media Marketing
Social Media Management
Content Creation Management
Blogging/Vlogging
Marketing and Public Relations
Copy Editing
Project Management
Grant Writing
Resume Writing
#digitaltraining #digitaljobs
Alaafia is a Registered 501(c)(3).
All donations are tax-deductible.
Registered No 84-4761643.
Hotline- 414-432-3555
Email – info@alaafiaafrc.org
Website – www.alaafiaafrc.org