Squeeze D Sickle 2023
Registration is open from March 1 through April 25 at 11 p.m
Enroll to become a talent in this show at https://form.jotform.com/230185106050139
Squeeze D Sickle will combine entertainment and education to raise awareness on the history of Sickle Cell, new treatments, cures, and daily tips for patients and caregivers. This event also gives artists living with Sickle Cell a rare opportunity to display their talents.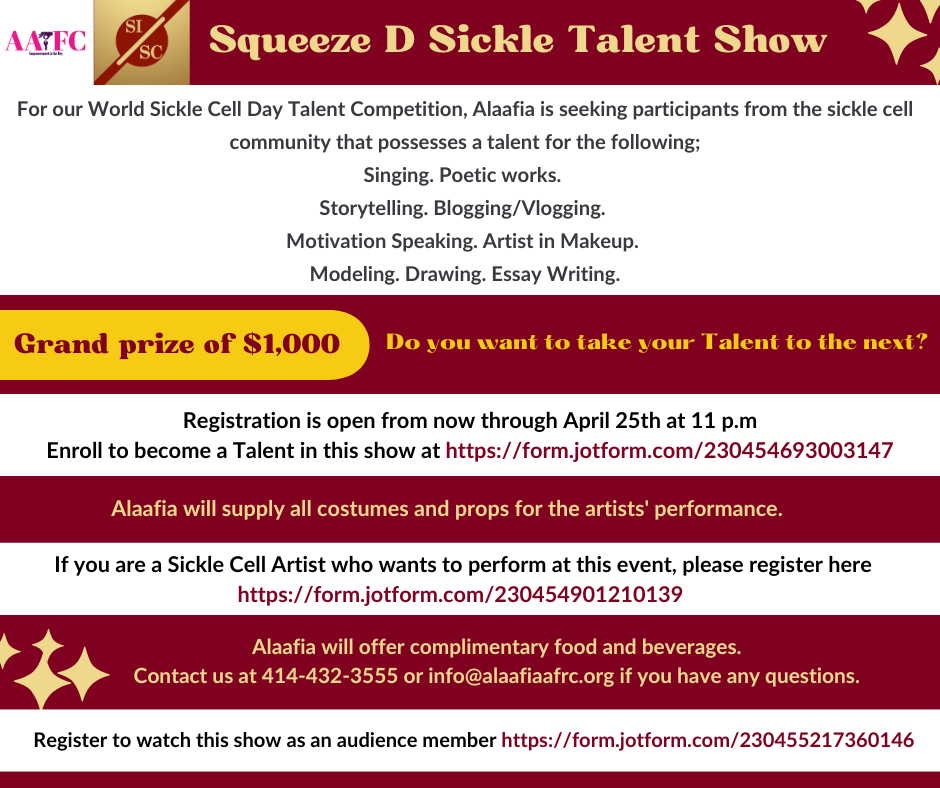 We have a diverse roster of poets, singers, actors, painters, bloggers, presenters, and fashion designers living with Sickle Cell, who will share their talents with our audience via a talent competition. Divided into levels, the talent show will be judged by the audience and a panel of professionals, who will decide which artist will move to the next level. Three of the artists to make it to the final level will receive a prize.
Squeeze D Sickle will be interspersed with informational presentations and will culminate with a Q&A session with health professionals, activists, and advocates in the field. We anticipate around fifty people attending in person at No Studios (1037 W McKinley Ave) and close to 500 virtually.
For the past eight years, SISC has studied the needs of individuals living with Sickle Cell and has concluded that these individuals struggle with chronic pain, which if untreated, can lead to major health complications. For many, the pain, side effects from medication, and mental strain can be overwhelming. This has led patients to turn to alternative methods like art and sports therapy to reduce the stress and anxiety that comes from living with Sickle Cell. Squeeze D Sickle is an extension of our exploration into how art can aid in cultivating emotional resilience, promoting insight, and reducing stress.
This event's goals are to recognize World Sickle Cell Day and give artists living with Sickle Cell a chance to perform live in front of an audience including our panel of judges. This exciting event will raise the awareness of Sickle Cell by fusing entertainment and education.
Squeeze D Sickle 2022

A whole day event to celebrate World Sickle Cell Day with education awareness and honor Kids living with Sickle Cell and the best ten Sickle Cell advocates in the USA.
In the Q&A session, the audience will have the opportunity to learn about this disease from a medical representative, adult patient, advocate, and parent in a moderated forum.
This event will address the danger of Sickle Cell trait, prevention, new Sickle Cell medications, cures, and ER treatment.
June 19th is World Sickle Cell Day. Strength in Sickle Cell (SISC) wants to celebrate this special day by providing education on using various Art therapies for daily pain management.
We will also give patients an open platform to utilize their voices in advocacy and awareness. This moment will focus on patients explaining to medical practitioners the basic things they need in the ERs, hospital admissions, and Sickle Cell clinics; some needs are heating pads, ointments, hot baths, massages, certain foods, and drinks, etc.
SISC has experienced, monitored, and observed the needs of individuals living with sickle cell and concluded the following: People living with Sickle Cell struggle daily, including having different kinds of pain. These issues sometimes lead to crises if not treated immediately. It could be overwhelming to take pain medications all the time due to dealing with side effects and the mental impact on an individual. The pain medications are not always effective in managing the pain. This leads to patients needing something to calm down while the medicine takes time to work. Various therapies, including art and sports therapies, come in to help. Art therapy reduces stress, tension, and anxiousness.